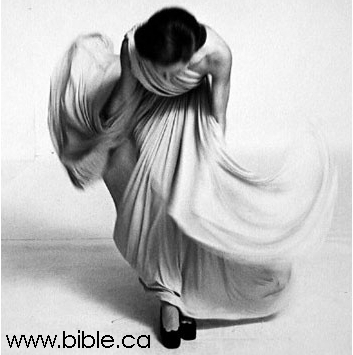 (1 Peter 3:1-3) 1 In the same way, you wives, be submissive to your own husbands so that even if any of them are disobedient to the word, they may be won without a word by the behavior of their wives, 2 as they observe your chaste and respectful behavior. 3 And let not your adornment be merely external—braiding the hair, and wearing gold jewelry, or putting on dresses; 4 but let it be the hidden person of the heart, with the imperishable quality of a gentle and quiet spirit, which is precious in the sight of God. 5 For in this way in former times the holy women also, who hoped in God, used to adorn themselves, being submissive to their own husbands. 6 Thus Sarah obeyed Abraham, calling him lord, and you have become her children if you do what is right without being frightened by any fear

.
Submission started at the beginning in Genisis. In the beginning when there was no sin, there was no one that had authority over man or woman to obey except God. When sin entered the world through Adam and Eve disobeying God, Authority was needed and that authority was given to man, Adam. In Genesis, it tells us that Adam is to submit to God as Christ did to God and women are to follow that instruction.
As a wife we are to submit to our husband's leading, it should be a natural response of a christian wife to the leader of the home, her husband. It sure does help when a husband is obeying God in his role as a husband by loving the wife like Christ loved the church. And it helps the husband also when we as women submit. There maybe be times, no there will be times, when submission may be tough, but even in those times we are to sumit if we want to please God.
Ephesians 5:25-33
25
Husbands, love your wives, even as Christ also loved the church, and gave himself for it;

26
That he might sanctify and cleanse it with the washing of water by the word,

27
That he might present it to himself a glorious church, not having spot, or wrinkle, or any such thing; but that it should be holy and without blemish

28
So ought men to love their wives as their own bodies. He that loveth his wife loveth himself.

29
For no man ever yet hated his own flesh; but nourisheth and cherisheth it, even as the Lord the church:

30
For we are members of his body, of his flesh, and of his bones.

31
For this cause shall a man leave his father and mother, and shall be joined unto his wife, and they two shall be one flesh.

32
This is a great mystery: but I speak concerning Christ and the church.

33
Nevertheless let every one of you in particular so love his wife even as himself; and the wife see that she reverence her husband.
I remember when I first became a christian and we we attending a church in which a couple shared their story of salvation and submission. This couple were married for a few years and the wife Maria, came to know the Lord. Well her husband was in the Navy and was not a saved man. Marie's walk grew in Christ in leaps and bounds. Her husband Rick told us, he loved his wife very much but could not grasp this "Christianty" stuff. Marie, walk the walk of a christian and Rick seen this. She submitted to His authority and he was most amazed by this. She would tell him, God's word tells me that I am to submit to you as a husband. There were times she had a hard time doing it but she knew it was what God wanted her to do. Rick would sometimes ask her not to go to church but stay home with him and she did. He noticed those times that it bothered her not to go church so he stopped asking her to do that. As I said previously, Rick loved Marie very much. Finally one day as Marie was leaving for church, Rick asked if she minded him tagging along and Marie was so thrilled and said yes, it would mean the world to her for him to be sitting beside her at church. Rick attended that Sunday and God drew Him onto Himself and Rick was saved. Rick will tell you today that it was the Lord that drew him onto salvation but it was Marie, He used as the tool to show Him the way. He said it was her submission to him that made a big difference to him because it showed him how much she loved him.
Submission is a continual attiude we should all follow not just as husband and wife but submission to our bosses, our friends, our family but mostly to God. We should be able to yield to one another as husband and wife. I think when we look at where the woman came from, the rib of Adam, I think God meant for us to work side by side with each other, excepting the roles God has bestowed on us, obeying God and submitting to our husbands.
Cristina